Elementary French
Introduction
« Bonjour ! Comment ça va ? » Learning online French will help you travel around the world and have some rewarding encounters. You might plan on going to France, but did you know that French is the sole official language of 13 different countries? French is also the 3rd worldwide business language.
If you want to learn French online, there are lots of professional and personal benefits. Take full advantage of this offer: go on holidays, assist your business meetings or find a job while you learn a new language.
Why should you subscribe?
These days, you are too busy with work or family and you find that it is harder and harder to plan as your schedule is constantly evolving. You would like to learn French online, but you have a hard time to run according to a fixed timetable, to find some time or simply to move around? Would you prefer to get self-paced courses? At an affordable cost, we offer 20 different units, with videos to learn new vocabulary, worksheets and homework to practice French. Try the first lesson for free "Giving and Asking for Information" and become familiar with our method.
Each video contains a dialogue with listening exercises, as well as reading, writing and talking activities. You will first learn new words that will help you to visually master the language. Then, you will work on French basic structures, through dialogues using various daily-life situations. These dialogues have been designed so you can use them as templates and have been recorded by native French speakers. They can be used as a learning tool to practice pronunciation. From your first lesson, you get the chance to talk!
You can have access to the course anytime, anywhere, from your computer, tablet or phone and for an unlimited time. Lessons have been designed to get you straight to the point. You learn quickly with 20 lessons organized around topics.
Objectives
By the end of the course, learners will have completed conversations and language study in the following core areas:
1.0. Giving and Asking for Information
1.1. Introduce yourself
1.2. Talk about your likes and dislikes
1.3. Talk about your family
1.4. Talk about your hobbies
1.5. Asking and Giving directions
1.6. Check in at the airport
1.7. Buy a train ticket
1.8. Organizing your weekend
1.9. Get information at the tourist office
1.10. Book a hotel
1.11. Talk about your daily routine
1.12. Change an appointment
1.13. Shopping
1.14. Make a grocery shopping list
1.15. Describing yourself
1.16. Go to the doctor
1.17. Describe your home
1.18. Going out
1.19. Order food
1.20. Talk about celebrations
Who should attend
These classes are designed for people who need French to study, travel, work or simply for pleasure.These classes are designed for Elementary French students at Level A1 (French) and/or Level A2 (CEFR):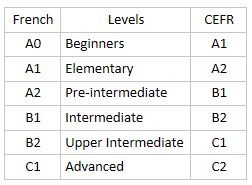 Course Outline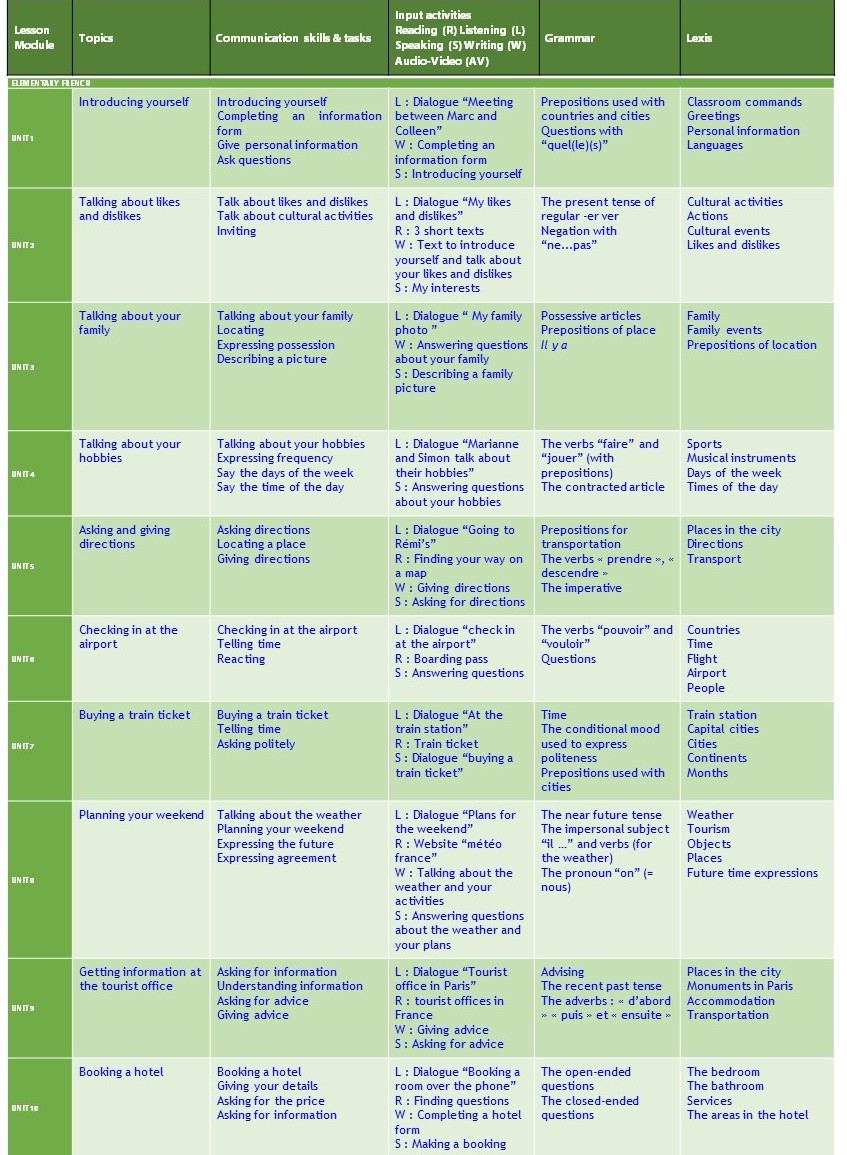 ---
Présentation du cours de français pour débutants
Introduction
« Bonjour ! Comment ça va ? » Apprendre le francais en ligne peut vous permettre de traverser le monde et de faire des rencontres de toutes sortes. Il est clair que la France peut être l'une de vos destinations, mais saviez-vous que le francais est l'unique langue officielle de 13 pays ? Le francais est aussi actuellement la 3ème langue des affaires dans le monde.
Si vous voulez apprendre le francais en ligne, cela ne peut que vous procurer des avantages, tant au niveau professionnel que personnel. Vous pourrez alors partir en vacances, avoir des réunions d'affaires ou trouver un emploi grâce à cet avantage linguistique.
Pourquoi les cours en ligne avec nous ?
De nos jours, on n'a jamais une minute pour soi. Organiser un planning est de plus en plus compliqué car tout évolue sans cesse. Vous voulez apprendre le francais en ligne, mais il vous est difficile de respecter un horaire fixe, de trouver un créneau ou encore de vous déplacer ? Vous désirez des cours adaptés à votre rythme ? Pour un prix abordable, nous vous offrons des leçons qui développent 20 thèmes différents, ainsi que des vidéos pour apprendre le vocabulaire, des fiches d'exercices et des devoirs pour pratiquer votre français. Essayez la première leçon gratuite "Demander et donner des renseignements" pour vous familiariser avec notre méthode.
Chaque vidéo est composée d'un dialogue et d'exercices d'écoute, de lecture, d'écriture et d'expression orale. Vous commencez par apprendre de nouveaux mots qui vous aideront à maîtriser la langue visuellement. Puis, vous travaillerez le français sur la base de situations variées tirées de la vie quotidienne. Des dialogues modèles enregistrés par des locuteurs natifs vous permettent d'aborder les structures de base de la langue. Par ailleurs, ces dialogues facilitent l'apprentissage de la prononciation. Dès les premières leçons, les débutants en français apprennent à s'exprimer.
Vous pouvez accéder aux cours à tout moment, que ce soit sur votre ordinateur, votre tablette ou votre téléphone et pour une durée indéterminée. Les leçons sont construites de façon claire et vous amènent droit au but. Vous apprenez rapidement la nouvelle langue avec 20 leçons structurées par thèmes.
Objectifs
A la fin des cours, vous pourrez vous débrouiller dans les situations de la vie quotidienne autour des thèmes suivants :
1.0. Demander et donner des informations simples
1.1. Se présenter
1.2. Parler de ses goûts
1.3. Présenter sa famille
1.4. Parler de ses loisirs
1.5. Indiquer un itinéraire
1.6. S'enregistrer à l'aéroport
1.7. Acheter un billet de train
1.8. Faire un programme pour le weekend
1.9. Se renseigner à l'office du tourisme
1.10. Réserver une chambre d'hôtel
1.11. Parler de ses activités quotidiennes
1.12. Changer de rendez-vous
1.13. Faire des achats
1.14. Faire une liste de courses
1.15. Se décrire (la description physique)
1.16. Aller chez le médecin
1.17. Décrire un logement
1.18. Proposer une sortie
1.19. Commander au restaurant
1.20. Parler des fêtes
Pour qui ?
Ce cours s'adresse aux débutants qui souhaitent acquérir les bases du français pour étudier, voyager, travailler ou simplement pour le plaisir.
Course Outline