Objectives / Course Outcomes of the Speaking & Writing Preparation Course
By the end of this course you will have:
analysed all parts of TOEIC Speaking & Writing paper
completed practice questions for each part
viewed the TOEIC vocabulary list
understood the time-keeping constraints of the test
Course Length: 3 hours
Description
The TOEIC Speaking & Writing Preparation course should be ideally taken 1 to 2 weeks before your test. Be sure to maximise your potential score by completing this course.
Focus
We focus on you. Our 1 on 1 trainer will diagnose your strengths and help where there are gaps in your knowledge. It should be noted that success in the TOEIC test is as much about your technique and time-keeping as it is about your English proficiency.
About TOEIC
For more than 30 years, the TOEIC test has set the standard for assessing English-language skills used in the workplace. Today TOEIC test scores are used by nearly 14,000 companies, government agencies and English Language Learning programs in 150 countries, and more than seven million TOEIC tests were administered in 2013.
TOEIC test questions simulate real-life situations that are relevant to the global workplace. Score reports provide accurate, meaningful feedback about a test-taker's strengths and weaknesses, along with a description of the English-language strengths typical of test-takers performing at various score levels. This allows employers to:
Relate test scores to the tasks employees may perform on the job
Use the descriptions to inform critical hiring and placement decisions
Select the employee with the English-language abilities the job requires
TOEIC test scores provide accurate, reliable measurement of English proficiency — they can be compared regardless of where or when the test is administered. For example, last year's scores of a test taker in Japan can be compared with this year's scores of a test taker in Korea. Because test takers of any background can be compared fairly, companies can use the TOEIC tests to make the most informed decisions and build a more diverse workforce.
The TOEIC Speaking Test Format
Content: 11 questions
Time: approximately 20 minutes
Score scale: 0–200
Below is an overview of the TOEIC Speaking Test, which includes 11 questions that measure various aspects of your speaking ability. For each question, you will be given specific directions, including the time allowed for preparing and speaking your response.
It is to your advantage to say as much as you can in the time allowed. It is also important that you speak clearly and answer each question according to directions.
The test takes about 20 minutes.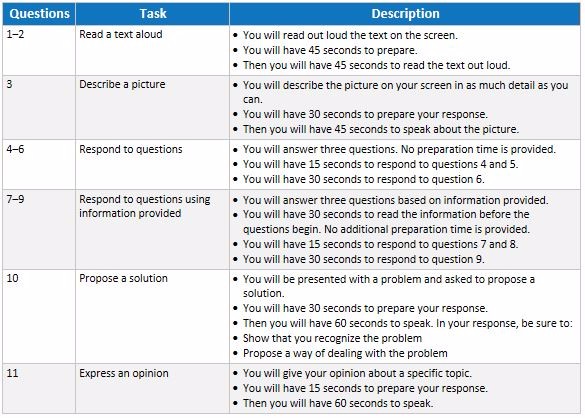 The TOEIC Writing Test Format
Content: eight questions
Time: approximately 60 minutes
Score scale: 0–200
Below is an overview of the TOEIC Writing test, which includes eight questions that measure different aspects of your writing ability and takes about one hour. For each type of question, you will be given specific directions, including the time allowed for writing.
PREPARATION – Speaking and Writing
The TOEIC® Speaking and Writing tests are valid assessments of English-language speaking and writing skills for the workplace. In today's competitive global job market:
Speaking skills are important for effective presentations, face-to-face communication, meetings, videoconferencing, teleconferencing and telephone
Writing skills are necessary for clear, persuasive emails and other forms of business correspondence.

The TOEIC Speaking and Writing tests complement the TOEIC® Listening and Reading test . Together, they provide a reliable measurement of all four English-language communication skills.
Unsure? Book a call with our director of studies at [email protected].